Highlights
Heart rate Sensor
Waterproof
Pedometer
Sleep Monitoring
Sedentary Reminder
Sync with iOS and Android Smartphones
Notifications
Calls
SMS
Contacts
9 clock faces
BT Music, BT Camera, Alarm, Find Phone/Anti Lost, Themes, UI Interfaces, Calculator, Voice Recorder, Calculator, Calender, Siri
---
Product Video
---
Description
The K88H Smart watch is an elegant looking smart watch with a quite cheaper price tag. This fitness tracker smart watch has a premium look and if compared to the price,, it looks way more expensive than the actual price of the product. It is also a waterproof smart watch. The K88H watch adopts magnetic charging technology and there is no hole for charging, thus making it real waterproof.  The K88S smart watch is popular all around the Globe and it is now becoming popular in Bangladesh too.  In Bangladesh, most of the smartwatches have a cheap outlook and the ones with a premium look have a high price tag. But its not the case for the k88h bluetooth smart watch, because it looks expensive but has a low price in BD. We believe that if we provide k88h waterproof smart watch at a good price then it will be one of the best selling smart watches in Bangladesh. Wearable technology/smart watch era has just recently arrived only a few years ago but it had a rapid development and so what was once the stuff of science fiction is becoming available to the people at affordable lower prices. This waterproof smart watch is a good example of this trend.
Unboxing 
The K88H smartwatch comes with a pleasant appearance gift box. The box contains a magnetic USB Charging cable , a user manual and the stylish smart watch. The watch measures 3cm in diameter and has a 240 x 204 pixel capacitive HD IPS Touch screen . The screen in visible in all kinds of lighting condition and all view angles.
Our review unit (courtesy of GearBest) had a sleek, black, stainless steel wristband, but it looks like this can be changed out to any standard wristband as it connects to the unit via a standard 21mm pin.
For the most part, navigating with the watch is easy as the K88H is responsive to screen presses and swipes.
Apps and Connectivity
The K88H features a number of preinstalled apps – Phone Dialler, Messages, Notifications and Calendar. Some additional apps for Health and wellbeing, such as Pedometer, Movement reminder, Sleep monitoring and Heart Rate monitoring are also installed but are not enabled by default, perhaps to preserve battery life.
As the K88H runs a custom OS and not a variant of Android it means that Customisation of the K88H smartwatch is limited to changing the watch face and icon theme among the preinstalled options and custom apps are out of the question.
Android and iOS phones are officially supported by the K88H, as long as you are running Android 4.4 or iOS 7.0. Connecting via Bluetooth is a painless experience. As the watch supports Bluetooth 4.0, it is more power efficient and less of a battery drain.
Android and iOS users can scan the QR code in the instruction manual to download the partner application for the watch on their handset. This will allow for integration of mail, Facebook, calendar and SMS notifications along with syncing historical data from the wellbeing apps.
As a side note: Windows Phone 8.1 or Windows 10 Mobile can technically work, but are not officially supported you will receive reduced functionality as no application exists for Windows. Basic functionality is still quite thorough, with full phone dialler and address book integration and Cortana responding surprisingly well to voice commands issued through the watch.
The rear of the K88H reveals a small microphone and speaker for use as a hands free unit for calls and for interacting with Siri on iPhone and Cortana on Windows Mobile. The small speaker is capable to produce a loud, if somewhat tinny sound and the microphone is strong enough for most common usage.
An optical heart rate monitor is centre on the back of the watch. Heart Rate monitoring can be performed as an occasional or once-off action, or can be enabled to monitor continuously. However, continuous monitoring can have a negative impact on battery life.
Simple usage of the K88H has allowed us to comfortably get almost two days of usage from the 300mA battery. Our simple usage was with Pedometer enabled, frequent checking of the time and occasional incoming phone and SMS message notifications. Enabling additional features such as the reminders if you have been sitting too long, heart rate or sleep monitoring would bring the battery life to below one day. That's not bad by Smartwatch standards, the first generation Watch released by Apple only had an expected charge of 18 hours, but is a change for anyone moving from a traditional watch.
Some neat touches are included in the K88H to preserve battery life: The screen will turn off, if idle, and will only activate if you lift your wrist. A power saving mode can also be manually enabled, that will switch off much of the smart functionality, but will keep your timepiece running for longer.
From completely empty, it take about 45-60 minutes to fully charge the battery. The magnetic Pogo Pins on the rear of the watch allow you to connect the included USB charger to the watch. We noticed, however, that the magnetic grip is particularly weak between the cable and the K88H and it was easy for the charger to inadvertently become disconnected.
Summary
Overall, the K88H is an impressive device for the price. It looks good and allows easy personalisation of the wristband. The battery can safely last a day, which removes the 'range anxiety' some Apple Watch users experienced. Siri interaction and the additional wellbeing functionality ensures that there are many features that make it useful the budget conscious smartphone owner.
We liked:
The Display is clear, colourful and responsive

Light and comfortable design

Standard Wristband pins make it easy to change appearance

Speaker and Microphone are decent for Calls and Siri interaction

Over one day battery life.

A good range of apps and functionality included for the price.
We disliked:
The charging cable not very secure, easy to accidentally unplug.

Charging from Empty takes about one hour

Minimal personalisation aside from the aesthetic appearance of the wristband. Apps cannot be reordered and no new apps can be added.

Health and wellbeing features must be manually started or set to run always. The more apps running definitely impacts the one-day battery performance.
Main Features:
● Perfect Personal Health Tracker: heart rate monitor, pedometer, and sleeping monitors.
● Ultra-long Battery Life and USB Rechargeable: it consumes less power and can generally last for 2 – 5 days.
● Waterproof Design: IP65 waterproof standard, suitable to use at home, office and during outdoor activities.
● Sleep monitoring
Carefully monitor your sleep quality
● Pedometer
Record the steps you take and count the distance to make you fully control your sports
● Sedentary reminder
Develop scientific habits and effectively resist sub-health
● Remote control phone camera
Effortless realize remote control and record every wonderful moment with any angle
● Heart rate monitor
Considerate monitor contact designed on the behind of the watch, take care of your health anytime and anywhere
● Bluetooth 4.0
Connected with mobile phone App, stable, fast and super low consumption
● 1.22 inch IPS screen, 240 x 240 pixels
Best suitable screen size with high definition picture displaying gives you great experience
Bluetooth Version: Bluetooth 4.0
RAM: 64MB
ROM: 128MB
Waterproof Rating : IP54
Waterproof: Yes
Bluetooth calling: Call log sync,Dialing,Phone call reminder,Phonebook
Messaging: Message checking,Message reminder
Health tracker: Heart rate monitor,Pedometer,Sedentary reminder,Sleep monitor
Remote Control: Camera remote,Music remote
Notification: Yes
Find phone: Yes
Other Functions: Alarm,Calculator,Siri function,Stopwatch
Groups of alarm: 5 groups
Alert type: Ring,Vibration
Locking screen : 6 kinds
Screen: IPS
Screen resolution: 240 x 240
Screen size: 1.2 inch
Battery Capacity: 300mAh
People: Unisex watch
Shape of the dial: Round
Case material: Metal
Band material: Stainless Steel
Compatible OS: Android,IOS
Compatability: Android 4.4 / iOS 7.0 and above system
Language: Dutch,English,French,German,Italian,Polish,Portuguese,Russian,Spanish
Dial size: 4.4 x 4.4 x 1.2 cm / 1.73 x 1.73 x 0.47 inches
The band width: 2.2 cm / 0.87 inches
Product size (L x W x H): 25.00 x 4.40 x 1.20 cm / 9.84 x 1.73 x 0.47 inches
Package size (L x W x H): 19.30 x 6.70 x 5.20 cm / 7.6 x 2.64 x 2.05 inches
Package weight: 0.186 kg
Package Contents: 1 x K88H Smart Watch, 1 x USB Charging Cable, 1 x English and Chinese Manual
SEPVER K88h Smart Watch Fully Compatible with iPhone and Android Smart phones
Specification:
Main functions: 

Dial, sync Message, sync Call logs, sync Phonebook, push notifications, Find device, Heart Rate monitor, Pedometer, Sendentary remind, Sleep monitor, Stopwatch, Calendar, BT music, BT camera, Alarm, Siri, Voice record, Motion, Calculator etc. 

MTK2502C + Bluetooth 4.0

Round HD IPS screen, 2.5D arc TP: 240 x 240 px HD IPS full view display, 2.5D arc touch screen

Screen size: 1.2 inch

Battery Type: Polymer batteries

Battery Capacity: 300mAh

People: Unisex watch

Shape of the dial: Round 

Case material: Metal

Band material: Stainless Steel

Groups of alarm: 5 groups

Alert type: Ring,Vibration

Language: English,French,German,Italian,Polish,Portuguese,Russian,Spanish
Packing list: 
1x K88h Smart watch
1x USB Charge Cable
1x User Manual
F&Q of K88h Smart watch
Q1: Is it touch screen?
A1: Yes, it's 1.22 inch touch screen.
Q2: Can i change the strap?
A2: Yes, you can change the strap for this watch, it is the 22mm width standard strap, you can change it as you like.
Q3: What mobile phone does this watch compatible with?
A3: This K88h smart watch is compatible with Android 4.3 & above and IOS 7.0 & above smart phones.
Q4: Does All functions work well with Android smart phones?
A4: Yes, All functions work well with Android smart phones, except the Siri function, because Android phone has no Siri function.
Q5: Does All functions work well with iPhone?
A5: Yes, All functions work well with iPhone, but iPhone user can only view SMS message from Notification icon, can not view from Message icon.
Q6: Should I insert a SIM card into the smart watch?
A6:  No, you don't need to insert a SIM card, this watch does not support SIM card and memory card.
Q7: Can i call directly from the watch?
A7:  Yes, you can make a call and answer a call from the watch after you connect the watch with your smart phone by bluetooth.
Q8: What functions work if the watch not connect with a smart phone?
A8:  If you don't connect the watch with your smart phone, you still can use below functions: Heart Rate monitor, Alarm, Pedometer, Sleep monitor, Sedentary remind, voice record, stopwatch, clock, calculator, calendar etc.
Q9: Is it waterproof?
A9: Yes, it's life waterproof, you can wear it to wash hands and in rain, but can not wear it to swim and bath.
Q10: Does this watch has a mic and a speaker?
A10: Yes, this watch has a mic and a speaker, so you can use the watch to talk.
Q11: What's the size of the watch, and what's the length of the band?
A11: The watch's diameter is 4.5 cm (1.75 inch), the length of the watch band is 18 cm(7.1 inch), the total length of the watch with the band is 23 cm (9 inch). so the watch can fit for a wrist that size is less than 9 inch.
Q12: What fitness function does this watch have?
A12: This watch has the heart rate monitor, pedometer, stopwatch, sendentary remind, sleep monitor fitness functions.
Q13: How long does the battery last?
A13: The normal working time is 1 ~ 2 days after fully charged the watch, it's depends on the frequency that you use the watch.
Q14: If I don't want the watch ring during meeting, how can i set the notification alarm to be vibrating only?
A14: You can click on the Setting, then click on the Sound, then click the Alert type, then choose Vibrating only.
Q15: Does the watch has a G senser? such as wake up the screen?
A15: Yes, this watch has a G senser, you can raise your hand up to wake up the screen, it's convenient to see the time.
How to set up the watch?
Firstly, You should use the Android smart phone or iPhone to Scan the APP QR code from the watch to download the Fundowear APP, and install it in the mobile phone.(You can find the APP QR code from the watch like the picture on the left, or you can find it from the watch box.)
Secondly, Register in the Fundowear APP, and keep the APP Running, use the watch to search the phone in the bluetooth button, and connect it.
Thirdly: Use the phone to search the watch by bluetooth in the Fundowear APP, then all features will work well for both Android phone and iPhone.
This watch can fully compatible with from iPhone 5s to iPhone 7 7 plus, and all Android phones (such as Samsung, MOTO, LG, HTC, Sony, Xiaomi, Huawei, ZTE, Lenovo, OPPO etc ).
If you have a set up problem, please ask us for help, we will send you a video to teach you step by step. 
Heart Rate monitor smart watch: Professional static and dynamic heart rate detection, whether you are resting or doing sports, detect you heart rate accurately.
There are two heart rate test modes: Once test mode and Repeat test mode. you can see the test data from the watch and you can also see it from the Fundowear APP by your smart phone. the heart rate data will be synced to the Fundowear APP.
Other features
Information push: Sync instant information, such as SMS messages, Facebook, Wechat, WhatsApp, Twitter messages. Let you real-time receive information from the smart watch.
Pedometer: Take care of your health, monitor the distance, steps, time, carlorie to reach your health target. Enjoy your sport at anytime any where with datas.
The metal strap is adjustable, you can change the length of the strap to fit your wrist size.
You just need to use a small screwdriver or small metal to open the buckle, then you can move the buckel left or right to adjust the length.
There are quite a few budget smartwatch offerings out there and we just came across the K88H model that has quite a few features for the price of just about $41. Learn more in our full review. You will also find a coupon code at the end of the article.
UNBOXING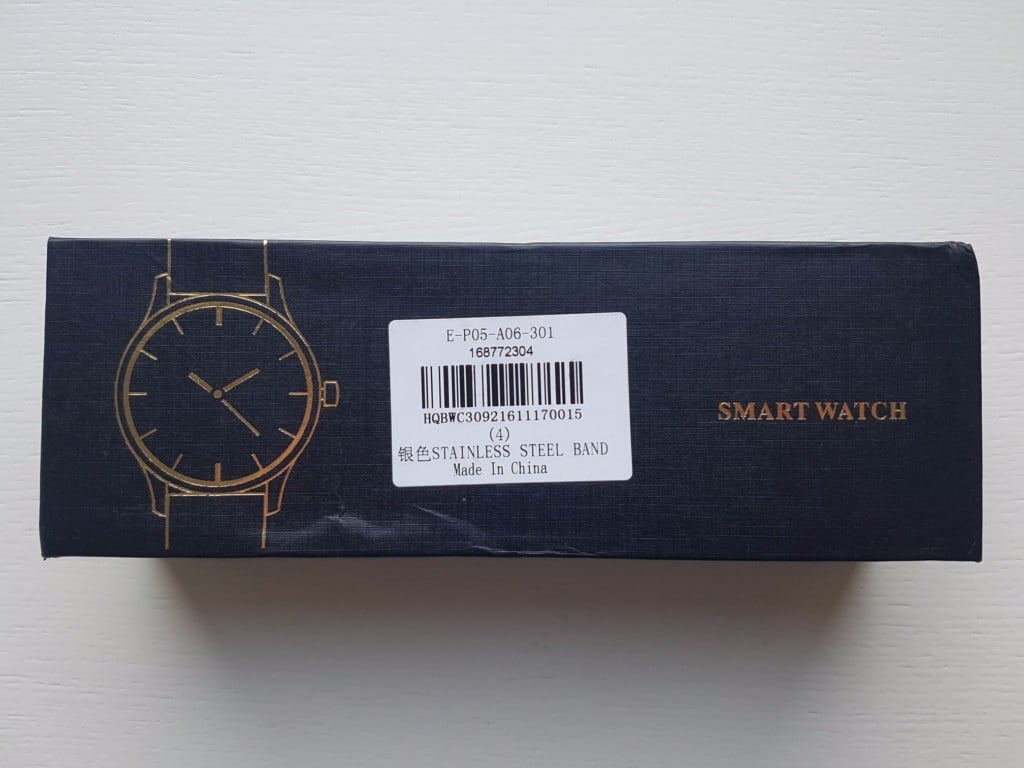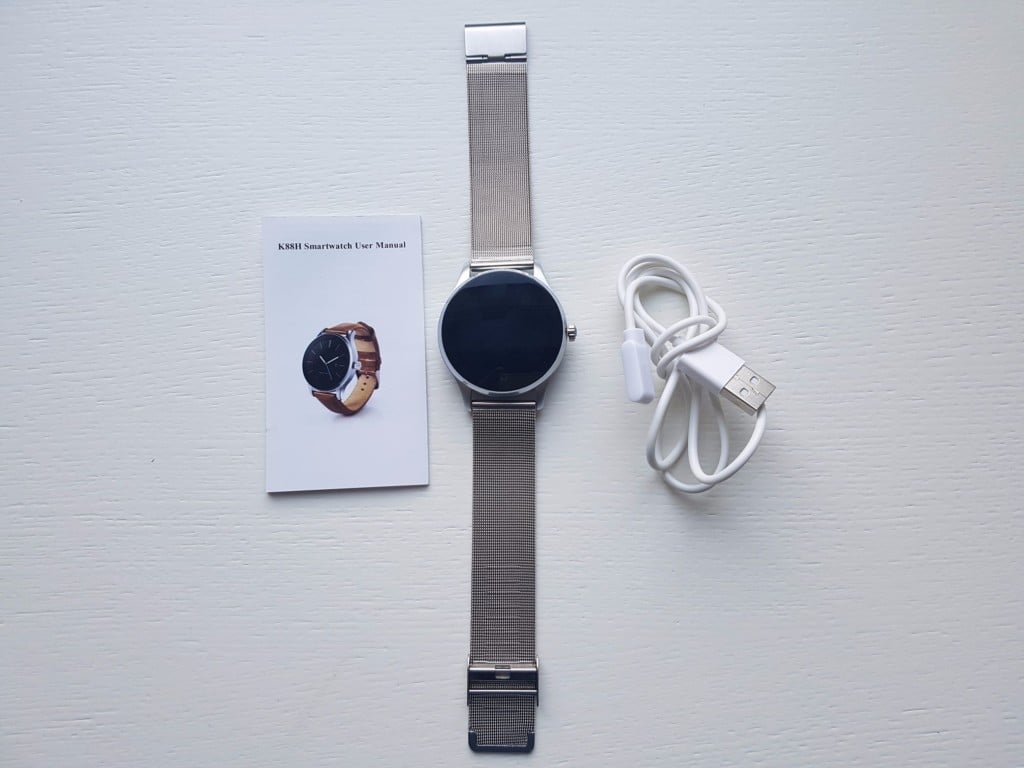 The watch ships with the magnetic USB charger and some paperwork.
DESIGN AND DISPLAY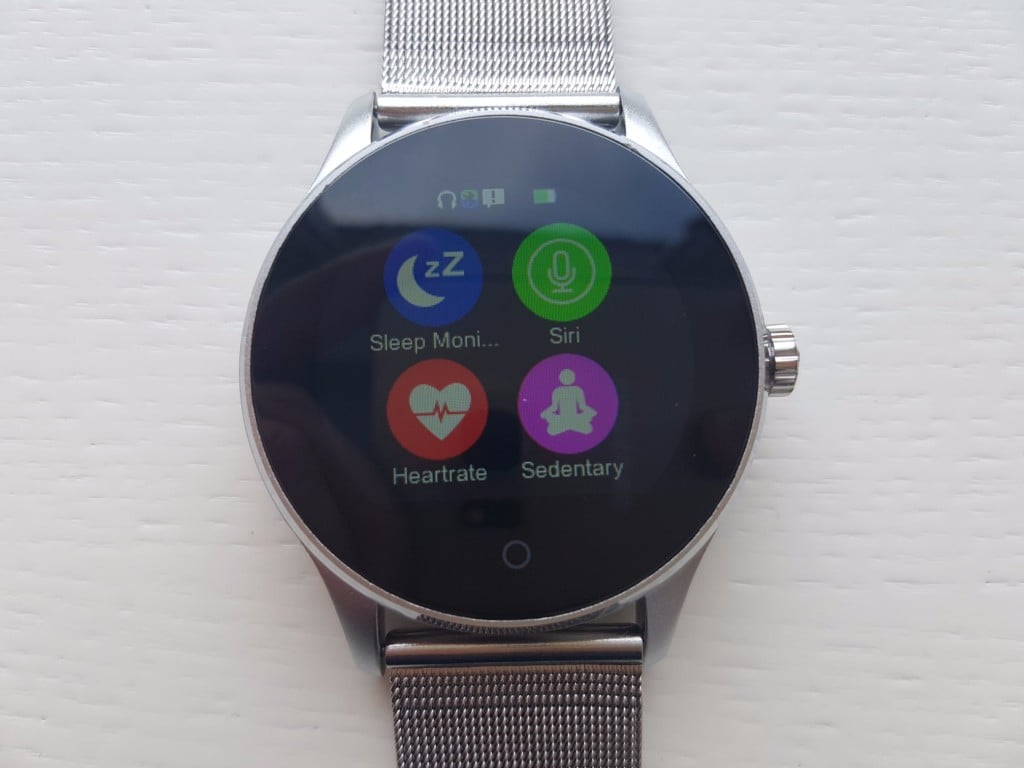 When it comes to the design, the watch is surprisingly well-made considering its low price.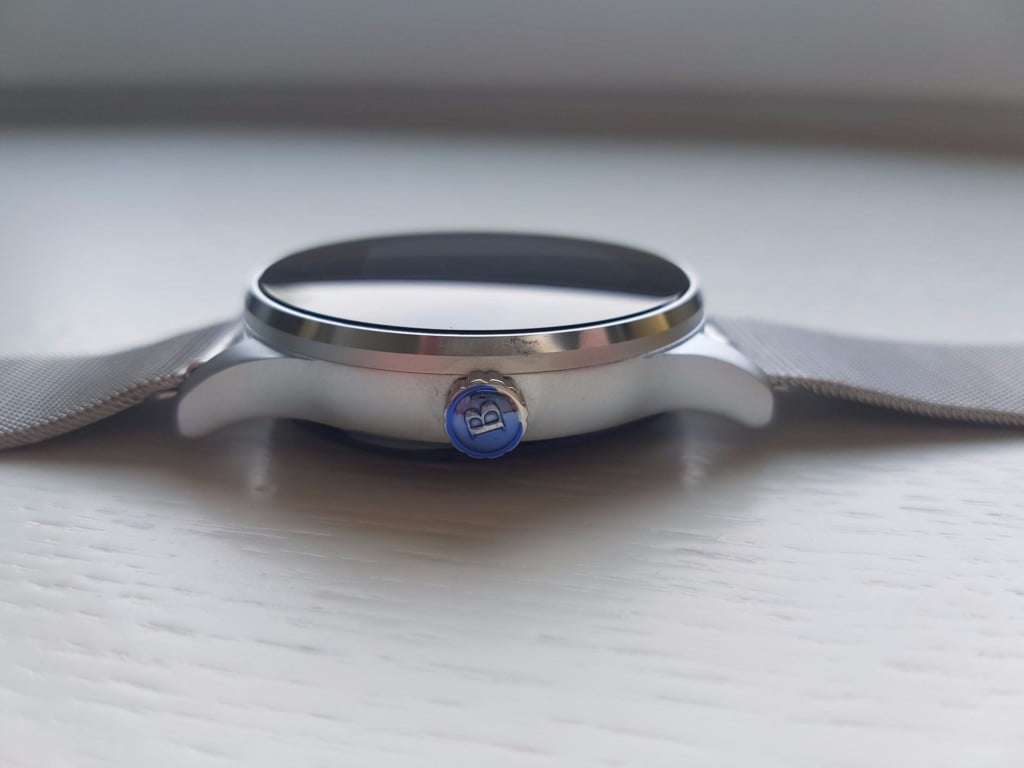 In fact, the watch is made almost entirely of metal and it uses a stainless-steel band, which makes the watch look more expensive than it is.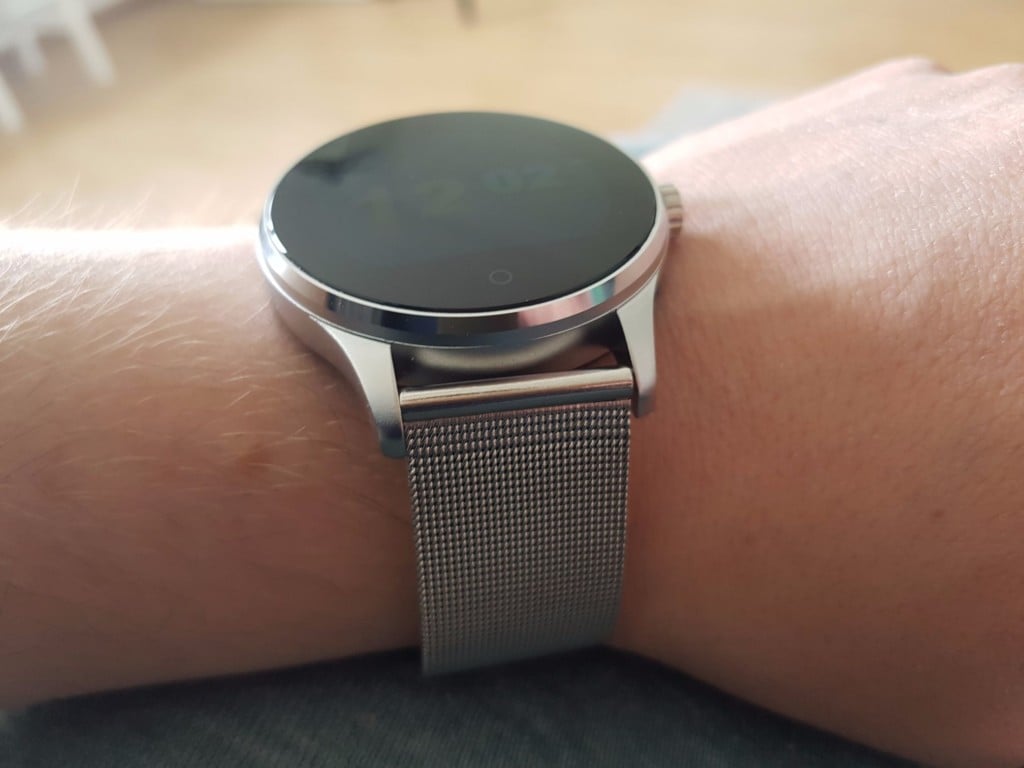 As far as comfort, the watch is pretty comfortable to wear on the daily basis, which does not happen with all cheap watches.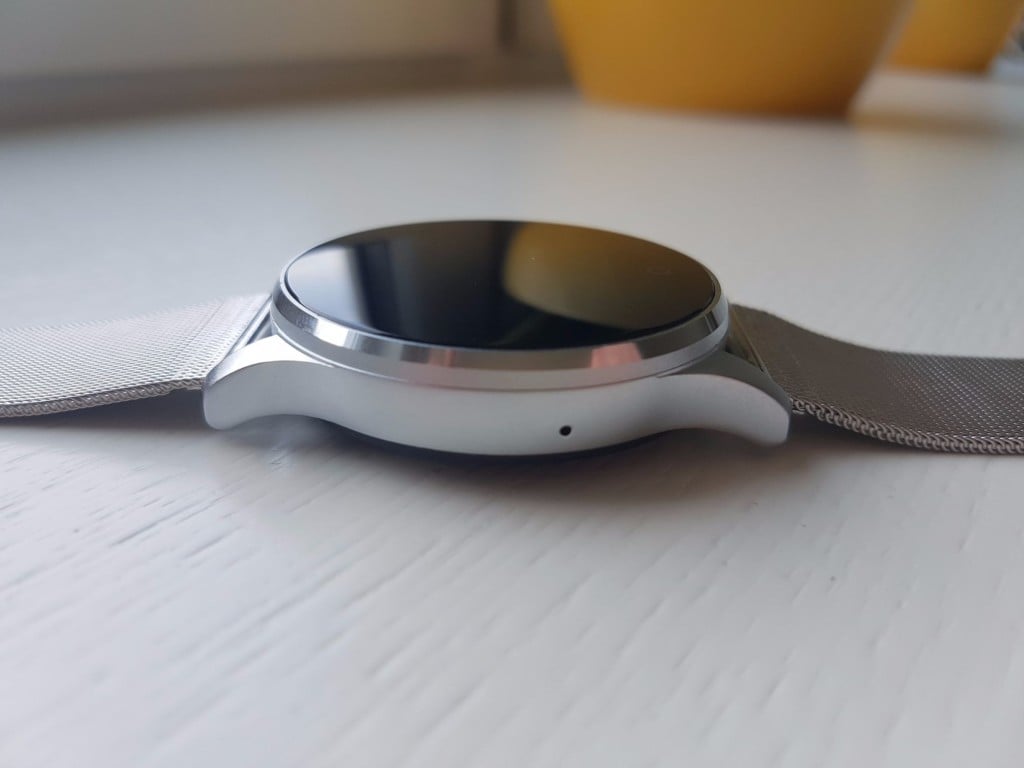 The watch can work independently or connected to your phone via the Bluetooth.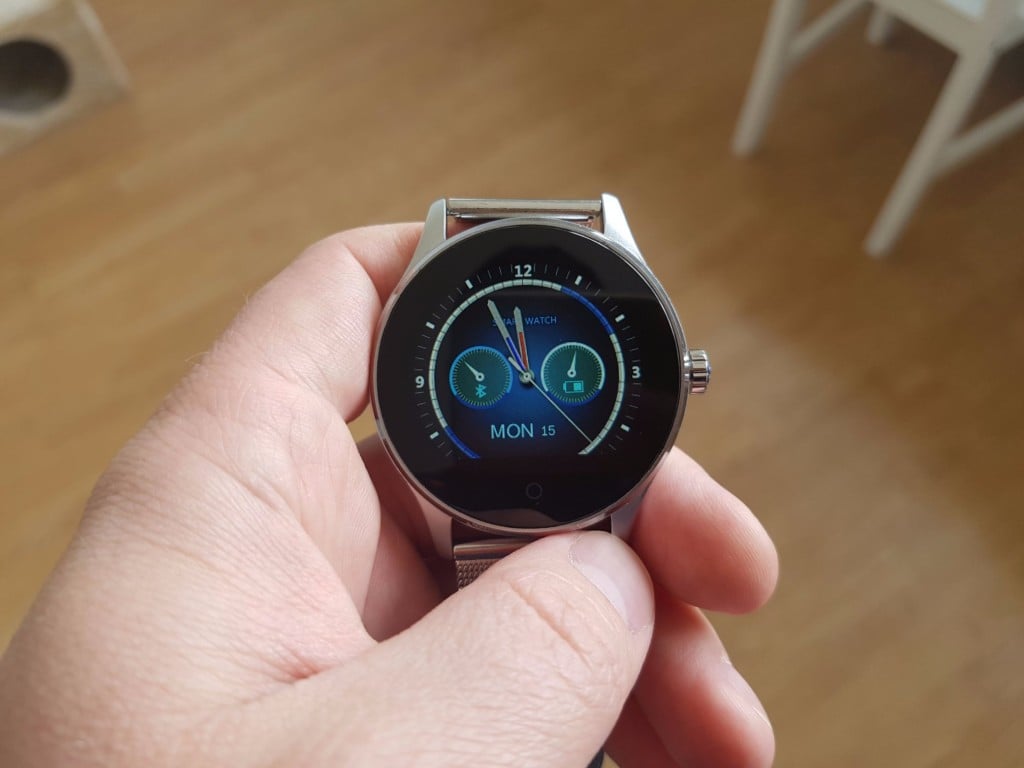 As for the display, it is not the sharpest out there but it is readable both indoors and outdoors.
You can select from a few watch faces or you can download a few more using the app. However, the watch has only 128MB of internal memory, so you can really download much stuff.
FEATURES, USER INTERFACE
You can navigate through the menus using the touchscreen or the side button. The watch runs on the custom-made UI, which has quite a few features and settings to play with. Just to name a few, you can use the watch as a dialer or read SMS messages, control your phone's camera, receive notifications from Facebook, Whatsapp etc.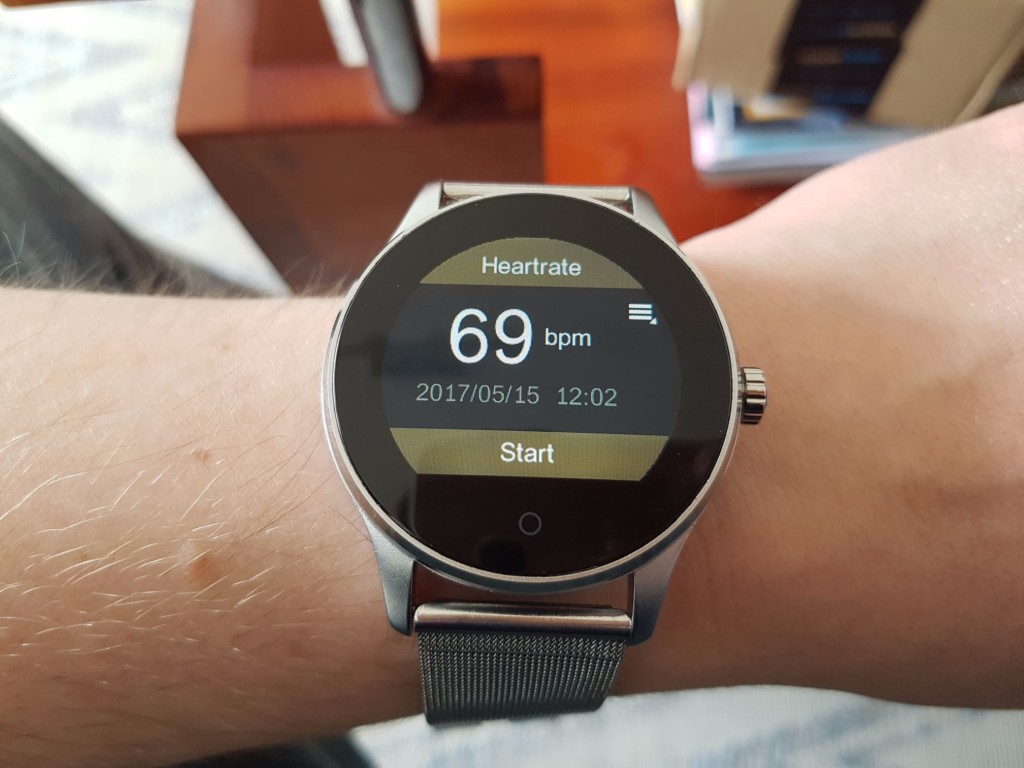 Both pedometer and heart rate monitor sensors are pretty accurate as I compared the results with the Xiaomi Mi Band 2.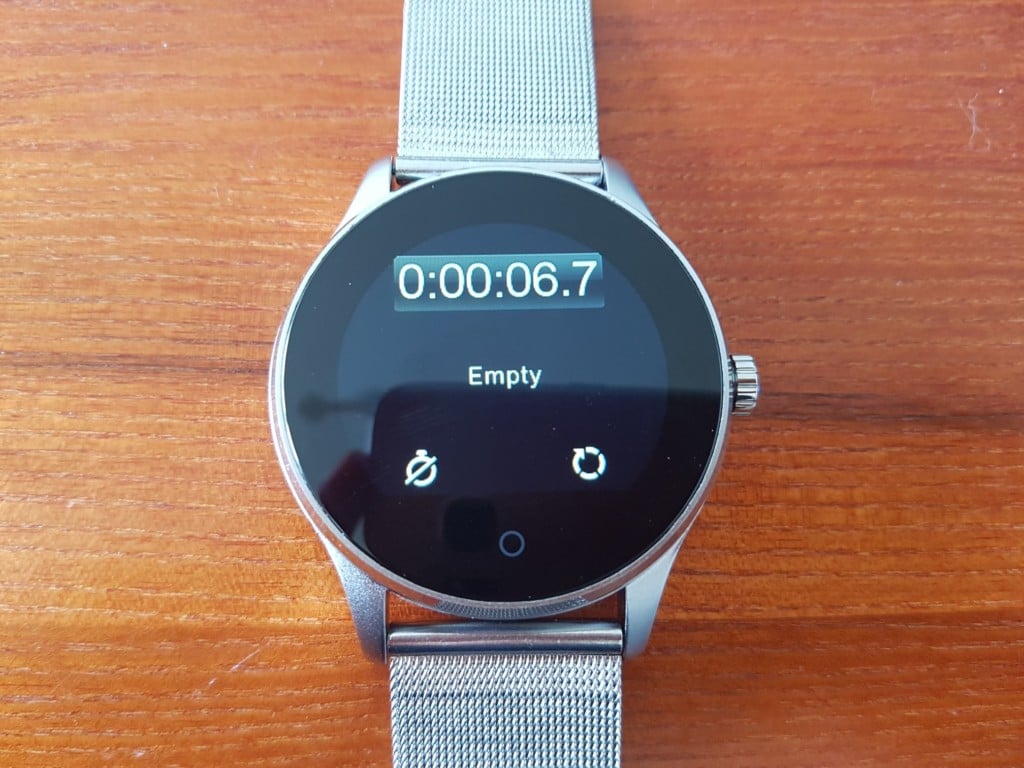 The watch has all other standard features as a sedentary reminder, alarm clock etc. There is also a Siri integration that works with the iOS devices. One of the cool features that work great is the lift to wake. It is really convenient in practice.
THE APP
You can also sync your fitness data with the FundoWear app, which is also used for other cheap China smartwatches. Within the app, you can check your steps counter, sleep and heart rate patterns, adjust a few settings and so on.
BATTERY LIFE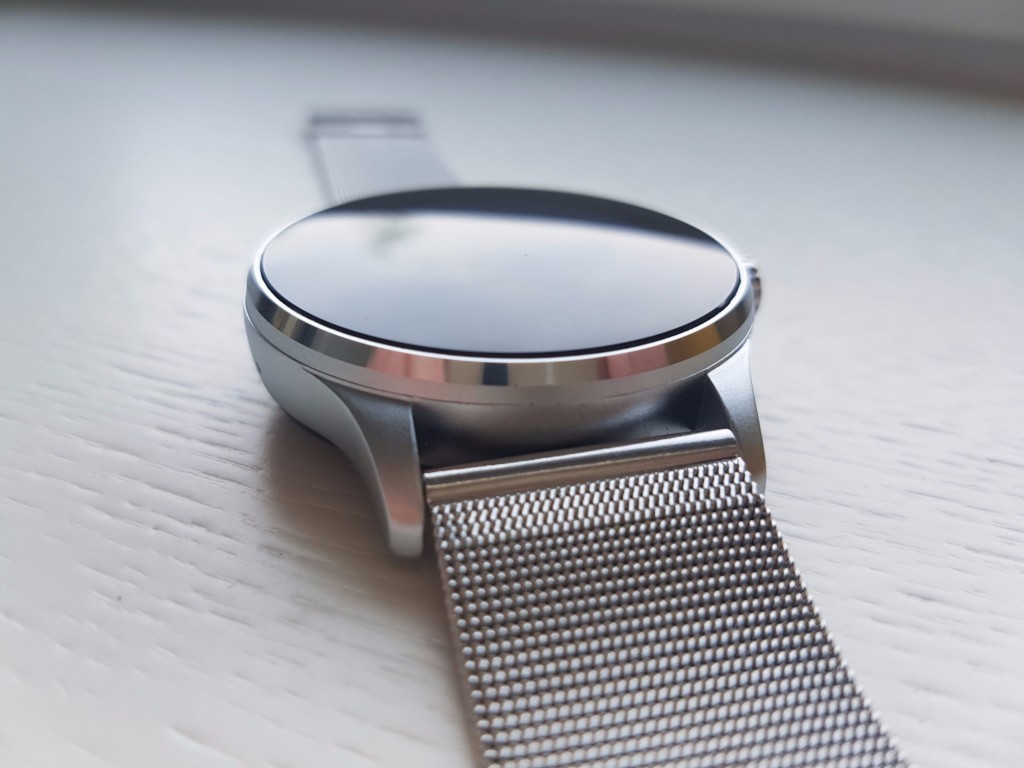 As for battery life, I could get just 2 days out of this watch, which is just an average result.
CONCLUSIONS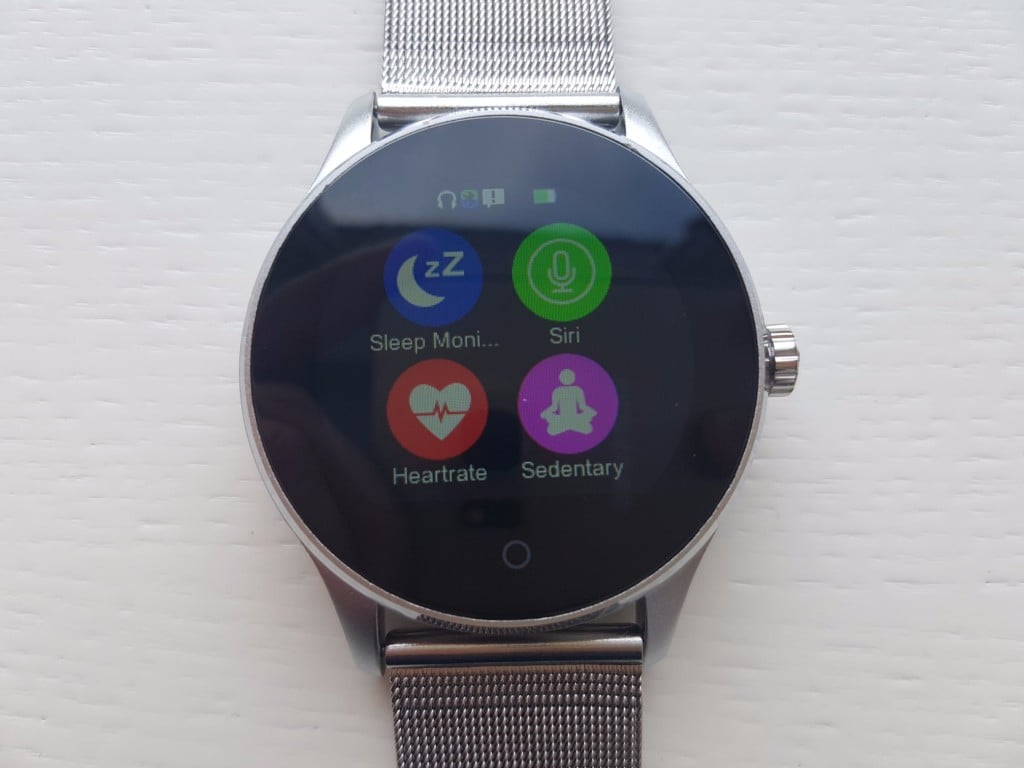 The K88H is a really capable cheap smartwatch as it has been working fine so far. It costs just $41 but you are getting quite a lot of features that are packed into a nicely-designed metal body. You can now get the smartwatch for just 39.99$ using a coupon code K88H1 at the checkout.
Technology is growing exponentially every day and changing by the hour, so it is tough to create something new and improved. Many manufacturers opt to borrow something from the best in business and add something that is uniquely theirs. We have reviewed K88H, a beautiful smartwatch that borrowed a lot of its appearance from watches made by the biggest tech giants. We have tested it over the course of seven days and used it exclusively as the only smartwatch. If you want to know more about this exciting and affordable little gadget, its strengths, and weaknesses, read the rest of our K88H smartwatch review.
To warm up, let's see the specifications that this watch has to offer:
Specifications
| | |
| --- | --- |
| Model | K88H Smartwatch |
| Screen | 1.2-Inch IPS 240X240 pixel |
| Material | Stainless steel and aluminum |
| Colors | Black, silver and gold |
| Compatible operating systems | Android 4.4 / iOS 7.0 and above |
| Battery | 300mAh lithium-ion |
| Product size | 25 x 4.4 x 1.2 cm |
| Product weight | 77 gr |
Packaging
K88H offers a very simple but effective black package that looks very classy. In the box itself, there is a smartwatch obviously, charging cable, as well as user manual written in English and Chinese. There is no additional equipment of any sort so what you see is what you get.
K88H Smartwatch
USB charging cable
User manual in English and Chinese
Design and Build quality
K88H sport a beautiful premium design with its stainless steel bands and rounded aluminum casing. It comes in silver, gold, and black color options and each of them offers a unique look. It is quite hefty with its 77 grams, but that just adds to its premium feel. On the front of the device, there is a rounded 1.2-Inch touch-screen.
The microphone is located on the left of the watch while and there is a rotating button for controlling the device on the right. On the back of the K88H, there is a speaker grill, heart rate sensor, and a magnetic charging connector.
The device offers an IP54 protection against water splashes, so there is no need to take it off before hands washing. The bands are pretty well made and because they are standard 22mm in the size you can replace them by another pair at any time.
You can combine different straps based on your outfit. The watch does look impressive, and it is made from quality materials considering its price.
K88H Display
The device offers a 1.2-Inch IPS screen with the resolution of 240×240 pixels. It doesn't sound like much, but it looks quite sharp on this display, and a lot of content can be shown. Colors are very vivid, and viewing angles are great which is standard with the IPS technology. The black color is not quite as deep as on AMOLED, but it is dark enough. Unfortunately, there is no screen protection against scratching so the user must be very careful while handling the watch.
Processor and RAM
The device sports MediaTek's MT2502C CPU and 64MB of RAM. The chipset and memory are bit shy on paper but in real life, they are performing very well.
Connectivity
K88H can be synced via Bluetooth with Android or iOS device and used for many things. You can check SMS, calls, receive notification from Facebook, WhatsApp, and other instant messaging apps. You can even communicate with Siri on your iOS device and give her orders straight from your watch. Bluetooth version on board is 4.0 so you will have no problem connecting the watch to the smartphone. The great thing about 4.0 version is that it is very reliable, and it doesn't drain the battery as much. Android and iOS users just need to scan the QR code on the watch, download and install the FunDoWear application to be able to sync.
K88H Battery life
The smartwatch offers non-removable 300mAh lithium-ion battery. Battery life is a mixed bag of good standby time and lousy screen-on time. When you use the watch extensively and sync a lot of data with your smartphone, you can drain its battery in less than a day. We used the phone to check SMS and WhatsApp occasionally, and the battery lasted about a day. Standby time, meaning that you use the watch just for checking time, can be four or even five days which is ok we guess. In any case, it is recommended that you bring your charging cable with you just in case.
Additional Features
Additional features are what the K88H smartwatch is all about. It offers a plethora of incredible possibilities, especially for athletes and people who enjoy physical activities. It has a pedometer so you can monitor how many steps have you walked or ran each day. During and after some physical activities you can check your heart rate with precision because the device offers a professional heart rate sensor. It also has sleep monitor function to see how good you sleep. It is based on the motion tracking that monitors your movement patterns during the night, and it can tell you about the quality of your sleep.
Another practical feature is a sedentary reminder. It is the age where we spend most of our time sitting in the office, and it has a dangerous effect on our health. A sedentary reminder will warn you to take a walk or stretch a little after a certain predetermined time. Because of the embedded sensors, you can check what the time is just by raising your watch because the display will automatically turn on. The watch offers some interesting and useful features that are usually reserved just for flagship devices.
Pros and Cons
Considering the features of this device, we have listed all the pros and cons for your viewing pleasure.
Pros
The device is more than affordable
It offers a great look and build quality
Straps can be easily replaced
Connects to your Android and iOS device seamlessly
Cons
The battery life could be better
It can feel heavy for some people
Our opinion
K88H is a very nice gadget that offers a plethora of possibilities for a very affordable price. It is a large device, and the battery capacity could be bigger, but it is a useful gadget overall. We liked this device, and we would recommend it to anyone who needs a classy sports watch.