Gaming And RGB Mouse Pads
Showing all 2 results
Gaming Mouse pad and RGB Mouse pad Price in Bangladesh | Order Online from zymak.com.bd
Get winning titles in your games with the cost-friendly gaming and RGB mouse pads in Bangladesh.
Are you in search of a cost-friendly and efficient gaming Mouse pad and RGB mouse pad? Want to make your mouse work more efficiently? Want a better experience in your gamming? Or you want to grasp a great collection of gamming set? You are on a right platform.
With the increase in the advent of technology and computer systems, wonderful gamming techniques are generated. It is much obvious, that these require you to put full effort to get quality experiences doing them. It should be quite known to all of you that for a better gaming experience, you must have quality equipment for it. One of this equipment which is given less attention is the Gaming Mouse pad. It can enhance your game fun and joy, if brought a good one.
You should not ignore the gaming and RGB mouse pads as they come up with the best gaming experiences. Once, these used to be just a simple surface to slide a mouse around. Don't you think it could change as well with the latest advancement? Well, your right these aren't the same as before having a great evolution in their features. Even some are so enchantingly designed that they can be a momentous and worthy inclusion to any significant gaming system. I am not saying that they don't do what they were made for. Don't even think like that. They do the same functions but there is a practical and more aesthetic addition to its features that is HUGE. Starting from the colorful and delightful RGB lighting that add a unique style to your rig and having a wireless charging features that can be connect to other wireless mice, it has reached to the addition of unique and special surfaces that enhances its accuracy. So, you might be clear now that these are quite more than just a simple and boring pad.
If we go on further about the gaming RGB mouse pads, I think I should simply say that these are mind-blowing, and for gaming these mouse pads are reasonably bloodless and miraculous. These are so as the gaming RGB mouse pads are the funky and long-lasting mouse pads designed for pro-level gaming. It characterizes a low-resistant surface improved for optical and laser mice sensors. To set aside from the frequent slippages in those crazy matches, five large rubber pads are present at the bottom of these. Additionally, there is a braided cable with in it to get connected to your PC easily without worrying about the cable conjunctions; and its funky illuminated features makes is more than outstanding.
Why to get a gaming and RGB Mouse Pad?
One of the accessories that mostly get ignored is the gaming mouse pad, especially, if you are an expert gamer.  Well, I understand that why most of people think they don't actually need one but you should take a look below at some of the benefits of a gaming mouse pad and why you should consider one whether you are a gamer or not.
Gaming Mouse pads are bigger and provide more convenience and comfort to the user.
The best advantage of the gaming mouse pads are there large sizes that will set you aside from the annoying picking ups and setting downs the mouse that frequently occur. This aspect is more attractive whether you are gaming or doing any personal office work. These gaming or RGB mice will make it easier to work with all day long.
Provides better experience with enhanced surface:
Another best thing about these which can't be omitted is that they are featured with much more accurate surface. These gaming mouse pads are designed in such method making it a cinch for your mouse to move far away. This is a significant feature if you are using an advance gaming mouse. Some comes with very smooth surfaces allowing the mouse to slide across them with ease. I think this is the one, which is always searched in a simple mouse pad as well.  To write in a nutshell, it paves a way for your mouse to work more accurately, precisely and consistently.
Gaming or RGB Mouse pads are long-lasting:
Another feature that has been founded mostly is that gaming mouse pads works for nearly a long time if compared with the simple mouse pad. They are designed with keeping in mind the playing strategies of gamers as they are always found to misuse their accessories than a normal PC user. Some of these can even work more than 5 years. Emm, this might have changes your opinion I hope so.
Gaming Mouse pads are good for the wear-and tears of your desk and mouse:
Just like a simple mouse pad, the gaming mouse pads will keep the wear and tear of your desk and will make it look more than just a piece of wood; but these have added more aesthetic sense to it. The constant motion of your mouse on a wooden desk will finish the maintenance of wood if it is not looked properly. Similarly, if you own an expensive gamming mouse you should spend on the gaming mouse pad as well as it would maintain the wear and tear of your mouse.
Considering all these beneficial facts, I will suggest you to go for a one at least for trial. A lot of gaming and RGB mouse pads are available in the market. You should search for rgb mouse pad price in Bangladesh.
What to look for in a Gaming mouse pad:
Are you in search of a cost-friendly and efficient gaming Mouse pad and RGB mouse pad? Want to make your mouse work more efficiently? Want a better experience in your gamming? Or you want to grasp a great collection of gamming set? You are on a right platform.
All the above requirements will be fulfilled and you will get an excellent experience by joining us, but hang on for a little, you will get easy access to the rgb mouse pad price in BD and gaming mouse pad price in bd but before let's talk about what you have look in an efficient gaming or RGB mouse pad prior than buying it.
In my thoughts, you should go for a cost-friendly mouse pad. I am not telling that all the expensive mouse pads are not worth of their services but still you should try to get the one in a mediocre price and good qualities as some do not provide enough satisfaction even after spending megabucks.
Search for a thin gaming mouse pad:
Important thing that should be kept in mind while bargaining is that never compromise on the quality. In this regard, always choose a thin, standard and heavy mouse pad as most often a thin mouse pad is more flexible and can easily adopt the shape of the surface it is kept on.
Examine the stitching at the boundaries of a gaming mouse pad:
Without any quality stitching of the boundaries will affect the life span of your gaming mouse pad after a long use or some washes. This can easily cause your mouse pad look rough and untidy. Your desk will also give the same look.
Before getting a gaming or RGB mouse pad for yourself, consider some extra features in it. Although, few falls in this category that offers extra features such as wireless charging, good illumination, USB conjunction and many more, but you should go for such as these are more reliable and durable.
Gaming mouse pads and RGB mouse pads price in Bangladesh:
Reading up to this point, I am pretty much sure you will have a better know how of gaming mouse pads and RGB mouse pads. Joining us is going to be quite much fruitful for you if you are searching for gaming mouse pad price in Bangladesh.
Your search for gaming mouse pad price in bd can find excellent results over here. We are here with an amazing list of some gaming and RGB mouse pads. So, keep scrolling down.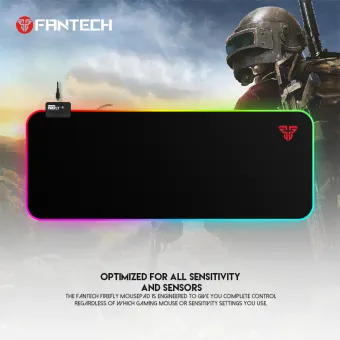 FANTECH MPR800 RGB mouse pad is a perfect definition of RGB mouse pad. All the features are outstanding. From material to size and structure, all are worth its price which is ȶ 1900.
If you are searching for a fast and precise item, I think this one is best for you.  It is one of the precise and accurate mouse pads having a fine fabric surface and allows fast movement. This awesome item has an extended area of larger diameters, length and width. Its non-slip rubber bottom won't move your table clothing away. Provide a good experience of flexibility and convenience. This wonderful item is featured with seamless and anti-fray stitching providing a good flat and uniform surface for precise optical tracking. This miraculous product comes up with a wonderful lighting system with 7 colors that keeps on changing.
Moreover, if you are looking for an rgb keyboard pad price in BD, you should stop as this one is a quality gaming rgb mouse pad has a lot of space enough to adjust your mouse and keyboard. It will reduce the sound created by the keyboard keys and will absorb the effects when you are clicking the keys.
Discussing all the features in detail, I think I might be crystal clear to you so, take a wide decision.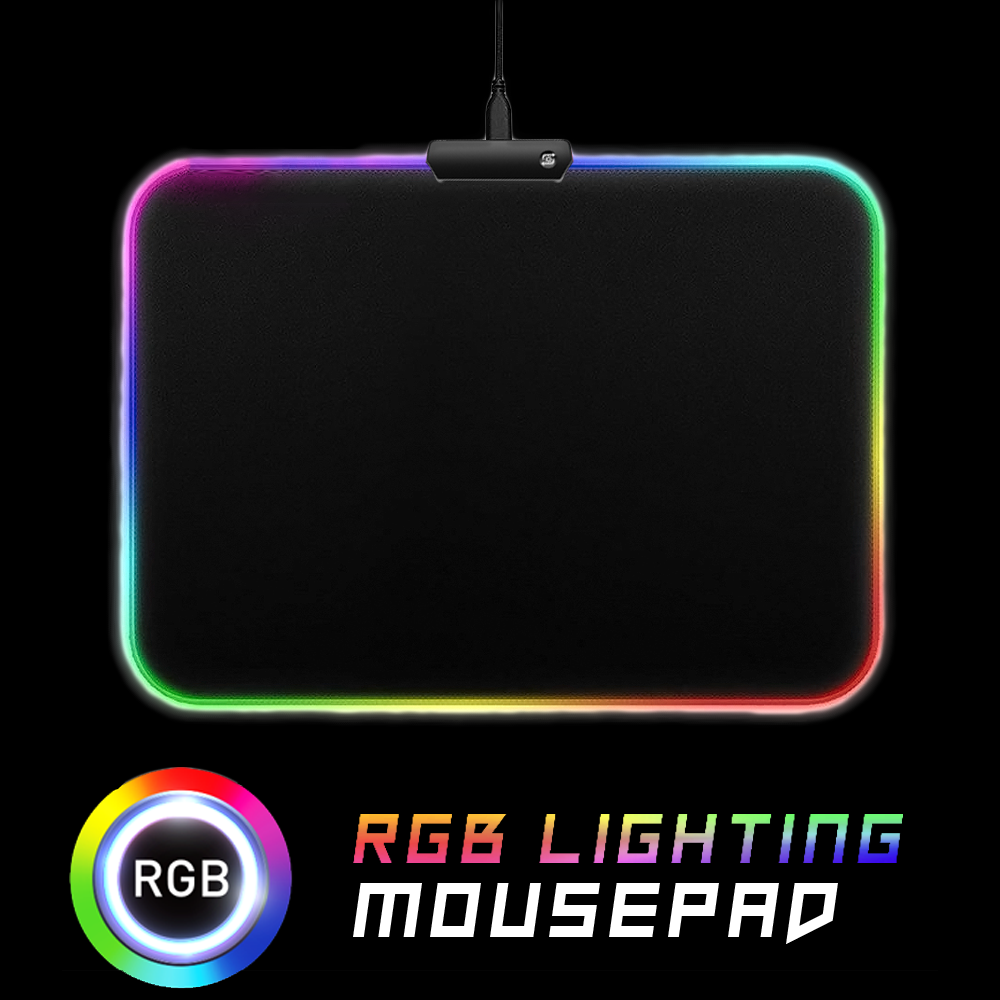 RGB lighting mouse pad for gamers:
RGB mouse pad JD-30 is a wonderful gaming mouse pad that comes with tremendous features having almost zero cons. It offers more than its price which is ȶ 650. It is a good item that offers good dimensions and an easy to clean feature, also absorbs the dust from the desk. This beautiful item comes with seven colors those changes into various modes such as still, fast strobe, slow strobe, and breathing. The USB pass-through makes it wear proof and water resistant. This enchanting item is designed with a rubber bottom that provides a strong hold on the table. Apart from that, this budget-friendly mouse pad ensures a good stitching at the edges so that it won't fray even after a long use like the other ordinary mouse pads. This wonderful piece offers a good surface for precision, accuracy and consistency by leans a bit more towards the precision.
RGB mouse pad JD-30 can add extra beauty to your PC and desk through its tremendous lighting features. If you are looking for any such mouse pad price in Bangladesh 2021, I think you should go for this one as its outclass features will never make you regret of buying it.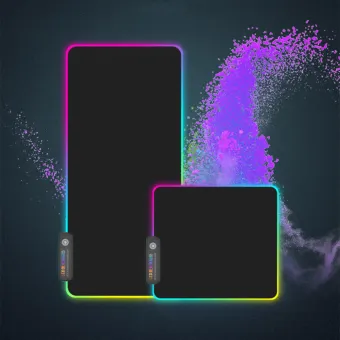 Super large light emitting keyboard and mouse pad:
The super large light emitting keyboard pad and mouse pad comes with mind-blowing features and specifications having a 15% discount on its price. This rgb keyboard pad price in BD is ȶ 1210. This tremendous product is good in its lighting features which are the key control lighting mode that changes into 7 more colors such as Green, blue, purple, cyan, yellow and white. The default color is red and changes automatically according to the given order. So, if you are looking for a bright and color mouse pads that can make you desktop or mouse look attractive, I think you should choose this one.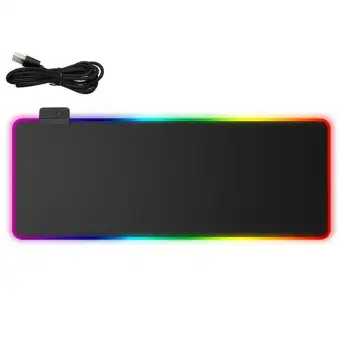 Large sized RGB gaming mouse pad:
The large RGB gaming mouse pad has outstanding features that makes it distinct than the others. Its large size makes it worth of its price that is ȶ 2100.  In spite of its large size that applies to all types of mice, it comes with smooth surface and a non-slippery base that take a strong hold on the table. It also has excellent lighting system along with a USB cable that makes it easy to connect to other devices. The material is superb providing the stability of the desk and allowing you to enjoy a lot in a passionate game. I can assure you that this will give an end to your search for mouse pad price in bd
Thermaltake level 20 RGB gaming mouse pad:
The thermaltke level 20 RGB gaming mouse pad is another wonderful addition to the list with price worthy features and quality services. The price of this outclass system is ȶ 4500. This stunning RGB mouse pad provides wonderful illumination effects with brightest visibility and eye-catching style for your gaming period. This all is due to its 8 special lighting effects and settings that will make a shiny outlook of your PC. Moreover, this awesome piece comes up with a specialized surface that provides strong tracking and grip that all the gamers needs to lead an intense gaming session.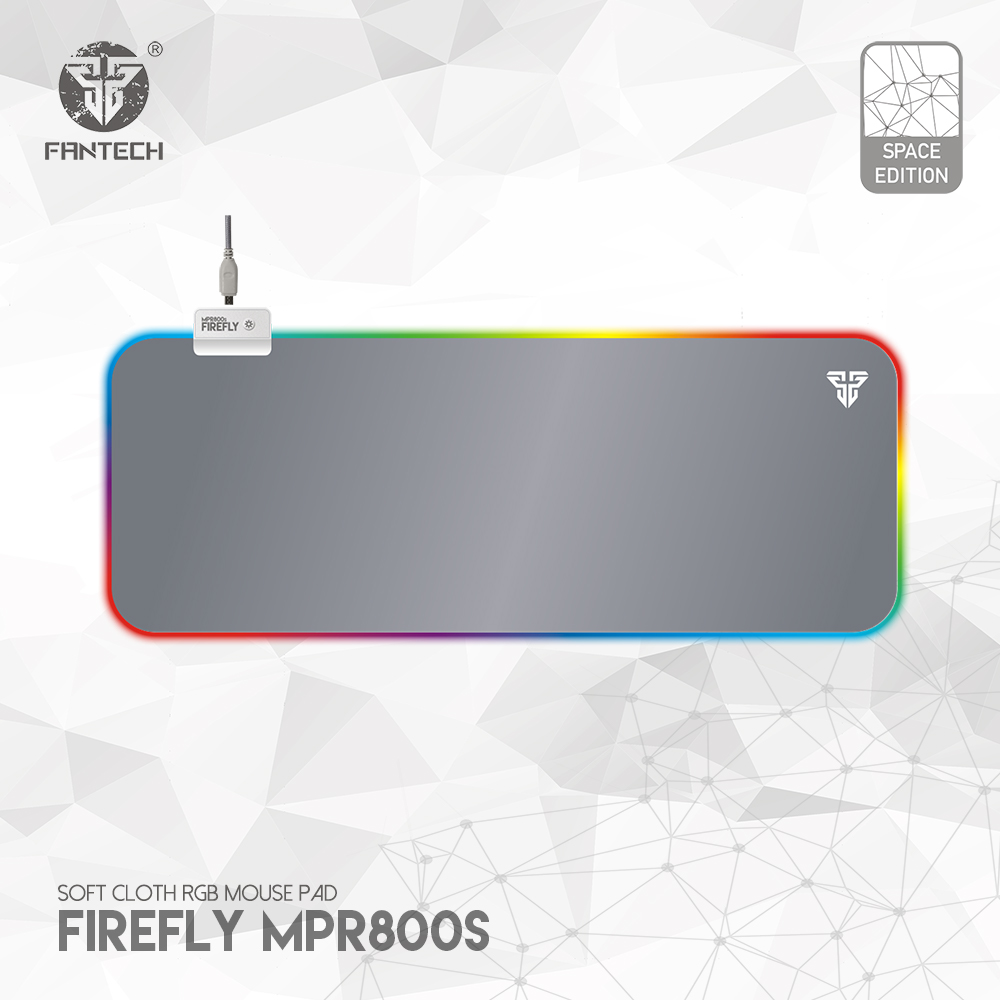 Fantech Firefly space edition mouse pad:
The FANTECH FIREFLY MPR800s space edition RGB mouse pad is another item of the same brand FANTECH. This one is cost-friendly product that will charge you around ȶ 1812 with 12 % discount. This user-friendly equipment comes up with astounding RGB spectrum lighting effect that has 14 different modes and settings. The bottom of this piece is made of rubber that provides an immovable hold just like a rock. It provides awesome designed surface for efficient movement, precise speed and control. Apart from that, you will get a separate USB cable that comes along it. So don't, think too much and place your order here.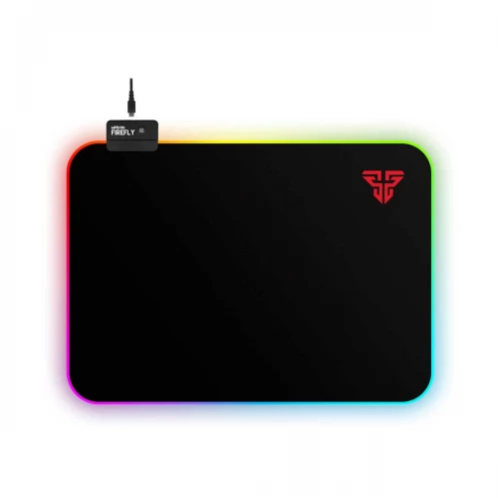 Fantech Firefly RGB mouse pad:
The FANTECH FIREFLY MPR 351 mouse pad is last but not the least in this list. If you have any issues with the high rgb mouse pad price in BD, you can go for this one as it won't make you regret of buying it. This awesome piece comes in ȶ 1322. This could be a wonderful package in such a low price. It provides a great experience via its soft clothing and charming illumination effect. The edges are stitched in an efficient manner making it anti-fray. Moreover, it is optimized for all sensitivity and come along with a USB cable.
Wrapping up:
There is a great variation in the mouse pad price in Bangladesh 2021, but all the features that come along it are simply outclass. Or I should say that you can get an over-all package by spending a short sum. There are some expensive ones as well but there features worth the price.
Frequently asked questions:
Here are some FAQs that are usually comes in the minds of people.
What should be a clear price range for the gaming mouse pads?
That depends upon what kind of mouse pad you are searching for. If you want a large with extra features then you have to spend more.
Are the lighting systems in the RGB mouse pads durable?
Yes, of course all the RGB mouse pads are long lasting and durable regarding each of their features.
Should I really buy a gaming mouse pad?
Probably yes, if I am asked I will definitely do. Gaming mouse pads can take your gaming experiences to another level. So, you should go for it.